The 16th Beijing International Aviation & Aerospace Exhibition was held from September 16th to 19th, and the large model of China's J-31 "Gyrfalcon" stealth fighter was displayed, which is a fifth Generation Multi-Purpose Medium Fighter aiming at international market, a stealth fighter of the same generation as US F-22 and F-35 fighters.
According to information revealed on the expo, aerodynamic performance and stealth performance of Chinese J-31 (FC-31) stealth fighter exceed many traditional fighters, and its avionics system will also be upgraded.
Some other specification of J-31 fighter was also unveiled. The highest speed of J-31 stealth fighter is Mach 1.8, and the largest combat radius is 2000 kilometers, which meet demands for carrier-based aircrafts.
Besides, J-31 stealth fighters owns absolutely independent intellectual property, excellent composite combat performance, single-seat double-engine, twin vertical fin and flying tail, large S-type bending air inlets on two sides, and interior weapon cabins.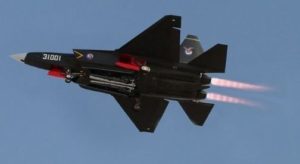 Chinese J-31 fighter
Like US F-22 and F-35 fighters, China's J-31 stealth fighter also features high viability, low radar detectability and low infrared radiation, as well as outstanding electronic countermeasures and low vulnerability design. J-31 also has powerful target detecting capability and outer information composite ability, excellent situation awareness, information sharing ability, multi targets BVR attack, arge off-boresight launching all-round air combat ability, air-to-land and air-to-sea precise attack ability.
With multiple mature technologies, J-31 stealth fighter is expected to be launched for international market in five years, and become a mature and cheap fifth generation fighter by 2024, and thus replace JF-17 block 2 as an exporting fighter jet of China.
J-31's developer AVIC also revealed that J-31 fighter will be very cheap, might be cheaper than the fourth generation fighters of the west, bad news for western countries.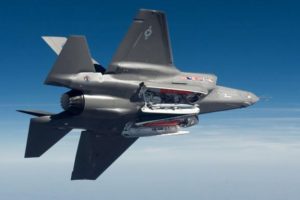 US F-35 fighter
German media reported that J-31 plagiarizes a lot of technologies of F-35 fighter, but Russian expert thinks J-31 is not a copycat of F-35.
J-31 fighter is now using Russian RD-93 engine, which will be replaced by homemade WS-13 upgrade version, and will have variants including carrier-based aircraft and fighter bomber.
In face of F-22 and F-35 stealth fighters of USA, China's J-31 might enter service in 2020, and another stealth fighter of China J-20 owns long-range attach ability and can reach West Pacific. J-31 will be a supplement to J-20 fighter.
American officials think if China's training, fighter amount, radar reliability and other airborne devices keep making progress, J-31 stealth fighter will soon exceed American main fighters – F-15 and F/A-18, and thus become a super weapon of China.